children and inner-children unleash their superpowers HERE!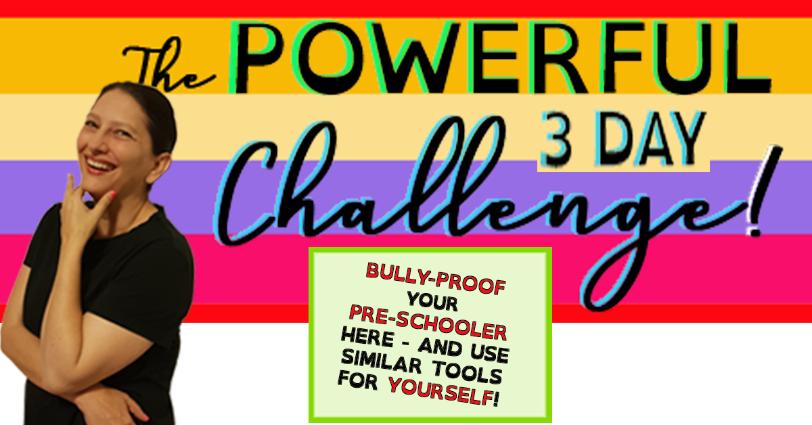 Join the Powerful 3 Day Challenge on bullying and POWERFUL!
Are you the type of parent who would stop your child being bullied if you could? Are you the type of parent who'd prevent your child being bullied in the first place?
This is your chance to PROVE that the POWERFUL system works with your bullied children, enabling them to feel powerful and become resilient - even if they are only 3 years old! Not only are the tools shown to you for free, you get to validate them, and use them, for as long as you like!
This is your chance! Grab this opportunity with both hands and watch your children soar!
FREE!
(FOR QUALIFYING PARTICIPANTS!)
THE POWERFUL 3 DAY CHALLENGE!
MON AUGUST 10-12 2020, 18h00
(GMT +1)
TO QUALIFY:
Join the Bullying Buster group by answering the questions.
Once approved, introduce yourself and tell other members what you want to get out of the challenge.
Bring your enthusiasm and I'll see you inside the group!
"I really believe in your work. It's amazing, needed work."

Sepelile Kaseke, Head of Programmes SOS Children's Villages
What is powerful?
Powerful is an anti-bullying, confidence-exploding, NLP-enriched story, song and action book. Children as young as three and older learn how to deal with bad, scared, sad or mad feelings... and feel powerful as human beings in everyday life. Parents can raise powerful children by implementing it in the home, therapists gain a powerful tool for their toolbox and teachers can create powerful classrooms and schools.

HOW DOES IT WORK?
The story in the Powerful book gives a safe context, while the Powerful song embeds a Neuro Linguistic Programming process. Dance move actions that support the embedded NLP process are combined with power poses. This combination of language and energetic, specialised and purposeful movement changes both chemistry in the brain as well as reframes negative experiences in the mind, enabling children to feel powerful inside; and skills them to deal with past and future negative experiences.
Aside: this book was designed using using OpenDyslexic, a font created by Abelardo Gonzalez. OpenDyslexic is a typeface designed to mitigate some of the common reading errors caused by dyslexia. Parents who seldom read to their children because of these issues may find this usage handy–as might children learning to read who themselves have the same.

how do I get started?
Read the book!
Familiarise yourself with the content, song and actions - then, with wild enthusiasm, read it, sing it and dance it with your child.
The more enthusiasm you show, the stronger the child will take it in. Talk about the story with your child, sing the song together often (making sure you use your whole body to do all the actions), and remember: with great power comes great responsibility. Always remind your audience that a really Powerful person uses their superpower to be kind, to be gentle and to share.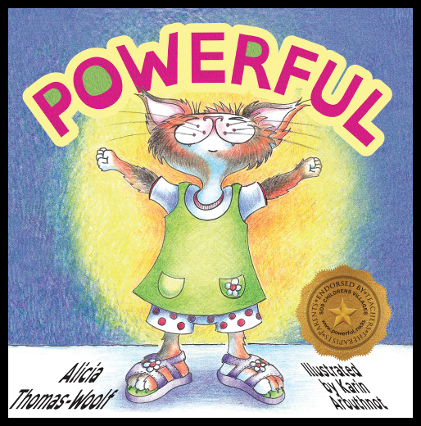 You can also do a whole lot more with Powerful in your home, your classroom, your school and your community!